Dear Bixby Center Affiliates and Friends:
The latest Intergovernmental Panel on Climate Change (IPCC) report has made clear the rapidly narrowing opportunity to enable climate resilient development. To create a different future, we must work differently, integrating across sectors, seeking synergy between climate and development actions, and highlighting diverse knowledge and innovation—especially from women and girls. 
Women and girls may be the most affected by climate change—but they are also key to climate resilience and a thriving future.
This panel discussion will be hosted by UC Berkeley Bixby Center, in the School of Public Health, in collaboration with PathFinder InternationalJoin us on Monday, April 24, 2023 from 12:30-1:30pm PT for an exchange across academia, research, non-profits, and philanthropy exploring the links between health, gender equity, and climate change. Together, we will generate new ideas, share emerging research and work, and build the connections we need to sustain and inspire solutions.
For those joining in person, we welcome you to engage in further community connection post panel from 1:30-2:30pm PT. You can also RSVP here or click the registration link in the flyer below to confirm your spot in person or virtually.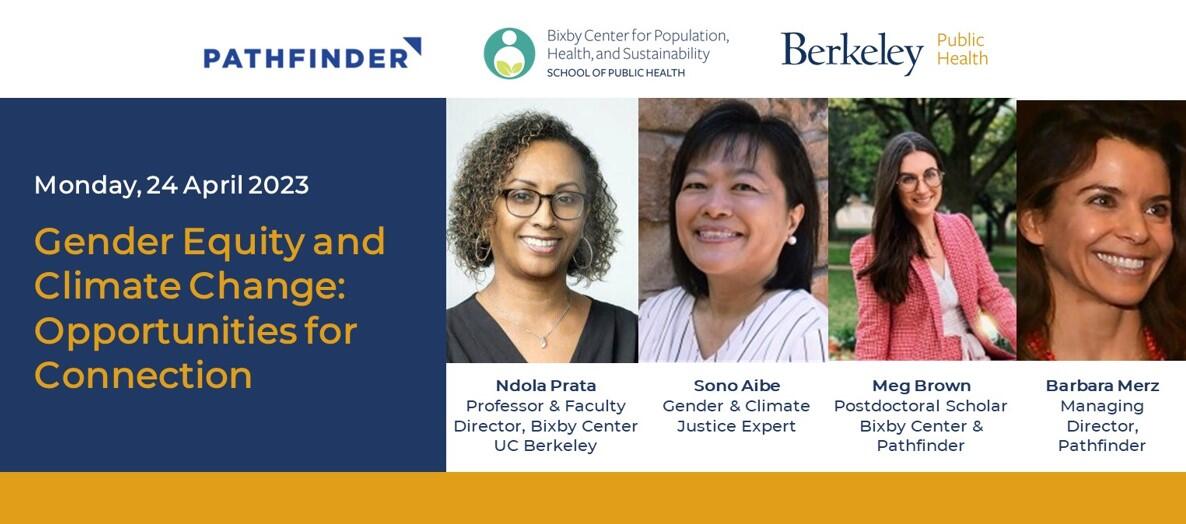 12:30–1:30pm program, 1:30–2:30pm in-person connections
Bixby Center, 2121 Berkeley Way, Room 1104, Berkeley, CA, 94720
Register here to confirm your space virtually or in person
The Bixby Center is committed to making its facilities, activities, and events accessible. To request accommodations for this event, please fill out this form or contact bixbycenter@berkeley.edu, (510) 642-6915 with as much advance notice as possible.
We look forward to having you participate in the discussion!